University of Cincinnati Extends 24-Year Partnership With Paciolan
Continues to Leverage Ticketing, Fundraising and Marketing Platforms, and Implements CRM Solution
(September 03, 2014)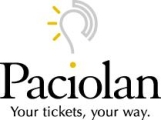 IRVINE, CA and CINCINNATI, OH -- (Marketwired) -- 09/03/14 -- Paciolan, the leading provider of ticketing, marketing, fundraising and sales automation solutions in college athletics, today announced that the University of Cincinnati (Cincinnati) has extended its partnership with the company. Cincinnati will continue leveraging Paciolan's industry-leading ticketing and marketing solutions, and in conjunction with the renewal, the university has upgraded Paciolan's Access Management system and implemented the company's Customer Relationship Management (CRM) platform. Cincinnati has been a Paciolan partner since 1990. Paciolan is a subsidiary of the Philadelphia-based sports and entertainment firm Comcast-Spectacor.
"It is a pleasure to continue our partnership with an industry juggernaut that represents our industry on a national scale," said Mike Bohn, Director of Athletics at the University of Cincinnati. "Within the college athletics landscape, Paciolan is the only one that serves the majority and provides the platform and services for Cincinnati to be the best it can be."
Cincinnati will continue to leverage Paciolan's industry-leading eVenue online ticketing solution to efficiently sell tickets in real-time at GoBearcats.com. Using the website, fans are able to purchase and renew tickets, and manage their accounts online in a fan-friendly interface. The online box office also provides Cincinnati fans with the ability to select tickets via interactive pick your own seat maps for football and basketball events, along with the option to print their tickets from home.
With the renewed partnership, Cincinnati upgraded Paciolan's Access management technology to allow the university to provide its fans and students with mobile ticketing and delivery. Beginning with the 2014-15 men's basketball season at Fifth Third Arena, Bearcats fans will be able to bypass will call lines and enter the venue upon arrival with 2D barcoded tickets on their mobile devices. In addition to using the Access solution at Fifth Third Arena, Cincinnati will implement the technology for the 2015 football season at Nippert Stadium after its renovation and expansion during the 2014 season.
"We are excited to offer our fans and students the ease of access to our venues and in turn provide them with the capability to scan their mobile devices when they arrive for Cincinnati events," said Lindsey Delscamp, Senior Director of Ticket Operations at the University of Cincinnati. "It is massive for us to upgrade our Access system and have the ability to scan mobile devices, and with the way the market is trending it will be just as impactful for the students and public."
In addition to the Access upgrade and in conjunction with the partnership renewal, Cincinnati will provide its staff with a 360-degree view of their fan, customer and season ticket holder interactions through Paciolan's integrated CRM solution. The customer management solution will help Cincinnati's sales team become more effective and efficient in personalized customer service, and the system will also allow the university to craft ticketing and promotional offers to their fans through a holistic view of ticketing, access, and purchase history data.
Cincinnati continues to utilize Paciolan's marketing services, which provides the university with the tools to communicate and better engage with their fans through the company's PACmail email marketing, display ad retargeting and PAC Social solutions. PACmail allows Cincinnati to tailor messages and promotions of ticket sales, renewals and upcoming events through segmented messages that highlight the university's strategic initiatives. Using Paciolan's display ad retargeting technology, Cincinnati is able to promote events and special offers by delivering banner advertisements tailored to specific consumers who visit their website to purchase tickets, helping further increase ticket sales and renewal campaigns. Through the PAC Social marketing suite, Cincinnati is able to engage fans and customers via in-venue visualizations with displays of social media Tweets, posts and photos on in-venue displays through surfaced fan content, and drive fan engagement through all of their social and digital platforms.
"We partner with Paciolan, in part because of the technology, but also because they offer a full suite of options for us to use such as their marketing services," said Brad Wurthman, Associate Athletics Director, Marketing and Strategic Communications at the University of Cincinnati. "In an age where sports marketing in college athletics is changing rapidly, we have to be cutting edge and Paciolan provides that platform for us to do so."
"We are thrilled to extend our partnership with Cincinnati Athletics and continue to provide them with a robust suite of tools and a platform to achieve their goals," said Dave Butler, Chief Executive Officer of Paciolan. "Paciolan is eager to help our partners grow and expand their business while remaining committed to improving their fan and customer experiences through leading technology."
About Paciolan
Founded in 1980, Paciolan is the leader in venue enablement, powering ticketing, fundraising and marketing technology solutions for leading organizations across North America. Collectively, Paciolan powers over 500 live entertainment organizations that sell over 120 million tickets annually. Primary markets include college athletics, professional sports, performing arts and arenas. Paciolan is a wholly owned subsidiary of Comcast-Spectacor.
Visit www.paciolan.com for additional company information.
Paciolan Media Contacts:
Craig Ricks
Paciolan
Vice President of Marketing
949.823.1636 (O)

Steve Brown
Paciolan
Corporate Marketing Associate
949.823.4506 (O)

Cincinnati Media Contact:
Brad Wurthman
University of Cincinnati
Associate Athletics Director, Marketing and Strategic Communications
513.556.8262 (O)


Copyright @ Marketwire
Page: 1
Related Keywords:
Sales, Marketing, CRM - Customer Relationship Management, Sales & Marketing, Internet, Business Issues, Social Media, Social Network, Management, Sales, Sales, Marketwire, Business, Sports, Marketing Services, Business, Entertainment, Sports, Basketball, Email,
---