Purdue University Renews 32-Year Partnership With Paciolan
Implements Paciolan CRM and Ticketing Intelligence, and Continues to Leverage Core Ticketing, Marketing and Fundraising Solutions
(May 20, 2014)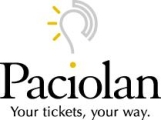 IRVINE, CA and WEST LAFAYETTE, IN -- (Marketwired) -- 05/20/14 -- Paciolan, the leading provider of ticketing, marketing, fundraising and sales automation solutions in college athletics, today announced that Purdue University (Purdue) has renewed its 32-year partnership with the company.
With the long-term partnership renewal, Purdue will continue to leverage Paciolan's industry leading ticketing, marketing and fundraising solutions, and has implemented the company's Customer Relationship Management (CRM) and data warehouse solutions. The university will also continue to utilize Paciolan's strategic partnership with secondary ticketing marketplace provider StubHub. Purdue has been a Paciolan partner since 1982. Paciolan is a subsidiary of the Philadelphia-based sports and entertainment firm Comcast-Spectacor.
"Our partnership with Paciolan has allowed us to achieve success and expand our initiatives through the leading tools in college athletics," said Morgan Burke, athletics director at Purdue. "For more than 30 years with Paciolan, we have ensured our fans and donors consistently enjoy a personalized experience and can utilize cutting-edge solutions when they engage with Purdue Athletics."
Leveraging Paciolan's eVenue online ticketing system, Purdue continues to efficiently sell tickets and process donations in real-time at PurdueSports.com through their branded and integrated eCommerce site. The solution provides fans and donors with secure online services and account management, the ability to pick their own seat via interactive seat maps for football and basketball events, and print tickets from the comfort of their homes.
As an early adopter of Paciolan's mobile delivery solution through the company's Access management system, Purdue will continue to expand its successful efforts with the technology. Using mobile delivery, Purdue students are able to purchase tickets and receive a 2D barcoded ticket on their mobile device, which allows for a seamless game-day experience bypassing will call lines at the box office. The Access scanning system also provides fans with the ability to print tickets at home, transfer tickets to events, and also allows staff to validate tickets and track attendance in real-time through the use of handheld scanners at entrances to events.
"Our continued partnership with Paciolan has enabled us to stay ahead of technology and offer an enhanced fan experience," said Barb Kapp, senior associate athletics director of business at Purdue. "This past season we were able to offer both mobile ticketing and delivery to our students, enabling a completely digital solution. Programs like this, as well as the hands on support we receive from Paciolan, have been invaluable to our success."
In conjunction with the partnership renewal, Purdue recently implemented Paciolan's Ticketing Intelligence data warehouse solution to provide the university with executive reporting for business intelligence. The time-saving reporting tool provides executive dashboards that highlight ticketing, marketing and donor data housed in a single database to provide a comprehensive view of all revenue streams. Ticketing Intelligence provides dashboards with real-time, disparate data accessible by mobile devices, such as tablets and smartphones that help staff better understand trends and make critical, data-driven decisions to maximize revenues.
Purdue also recently integrated Paciolan's CRM solution that will provide the university with a 360-degree view of its customers. The solution allows Purdue staff to better serve its fans, donors and customers by efficiently managing relationships, as well as prospective season ticket holders and donors. With a holistic view of each customer, Purdue will have the capability to personalize the sales process and track activity within the system from real-time data that enables staff to deliver world-class, personalized services.
To consistently engage with their fans and promote events, Purdue continues to leverage Paciolan's marketing services, including display ad retargeting, social media and email marketing. Using Paciolan's display ad retargeting technology, the university delivers sequential banner advertisements with special offers, tailored to specific consumers who visit their website to purchase tickets to their events. Working extensively with Paciolan's marketing services team to implement advanced online tools and new programs, Purdue increased online single ticket adoption by 20% the past year, including an $18 to $1 return on ad spend for single game football tickets using the company's retargeting services.
"We are thrilled to implement new and growing technological solutions that will help grow revenue streams across all departments," said Kapp. "The tools that Paciolan provides go beyond our operational ticketing needs. We are now engaged in retargeting ad campaigns and social media strategies that are elevating our reach to sell more."
Purdue was one of the first Paciolan partners to adopt Paciolan's integration with strategic partner StubHub, providing the university with a platform for ticket resale through its eCommerce site. The integration allows football and men's basketball season ticket holders the opportunity to resell unused tickets on the secondary market in a safe and secure environment, provide buyers with access to great seats, and the ability to print and receive tickets instantly at home or via mobile delivery.
"Purdue Athletics has made significant strides over the past few years under the seasoned executive leadership of Morgan Burke and Barb Kapp," said Jane Kleinberger, founder of Paciolan. "Purdue has heavily embraced new technology and was one of Paciolan's earliest adopters of the StubHub integration and mobile delivery, where they currently offer mobile ticket delivery to fans of both their primary and secondary markets."
About Paciolan
Founded in 1980, Paciolan is the leader in venue enablement, powering ticketing, fundraising and marketing technology solutions for leading organizations across North America. Collectively, Paciolan powers over 500 live entertainment organizations that sell over 120 million tickets annually. Primary markets include college athletics, professional sports, performing arts and arenas. Paciolan is a wholly owned subsidiary of Comcast-Spectacor.
Visit www.paciolan.com for additional company information.
Paciolan Media Contacts:
Craig Ricks
Paciolan
Vice President of Marketing
949.823.1636 (O)

Steve Brown
Paciolan
Corporate Marketing Associate
949.823.4506 (O)

Purdue Media Contact:
Barb Kapp
Purdue University
Senior Associate Athletics Director of Business
765.494.4796 (O)


Copyright @ Marketwire
Page: 1
Related Keywords:
Home, Displays, Computers/Home Office, Communications, Digital Toys, Web, Tablets, Smart Phone, tablet, Games, Tablet, EMail, Social Media, Sales, Marketing, CRM - Customer Relationship Management, Sales & Marketing, Database, Internet, Business Issues, Business Intelligence, Social Media, Social Network, IT Management, Management, Sales, Sales, Marketwire, unused, Business, Sports, Marketing Services, Business, Entertainment, Sports, Basketball, Email,
---