Just in Time for Oscars, PBS Series Just Seen It's Film Critics Offer Their Top 2014 Academy Award Picks
12 Years a Slave to Win Best Picture
(February 26, 2014)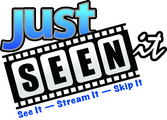 HOLLYWOOD, CA -- (Marketwired) -- 02/26/14 -- With the 2014 Oscars quickly approaching, the critics and producer of Just Seen It -- offer up their picks for who SHOULD win and who WILL win at this year's Academy Awards. On Just Seen It, industry professionals review the newest in theaters, on TV and cable. The reviews reflect audience viewing habits and let viewers know whether to "SEE IT," "STREAM IT" or "SKIP IT!"
The Oscars, which will be seen worldwide on Sunday March 2 at 5pm on ABC, and will be hosted by Ellen DeGeneres, are the most anticipated time of year for filmmakers.
"Our viewers at Just Seen It love this time of the year because this is where we celebrate what we already love to be doing -- going to the movies," said executive producer David Freedman. "As we kick off Oscar week, we hope our audiences just might agree with our picks."
The episode start airing nationally on Wednesday February 26 and run right up to Oscar Sunday, check local listings for showtimes, and online at Hulu.com.
Best Supporting Actor: Jared Leto, DALLAS BUYERS CLUB.
Best Supporting Actress: Lupita Nyong'o, 12 YEARS A SLAVE.
Best Actor: Matthew McConaughey, DALLAS BUYERS CLUB.
Best Actress: Cate Blanchett, BLUE JASMINE.
Best Director: Alfonso Cuaron, GRAVITY.
Best Picture: 12 YEARS A SLAVE.
The Just Seen It cast includes an eclectic mix of producers, directors, screenwriters, actors, and sound designers -- all working professionals in the industry including Zorianna Kit, critic from The Huffington Post, and guest reviewers Scott Mantz from Access Hollywood, Ana Maria Bahiana from the Hollywood Foreign Press Association and Jami Philbrick from IamRogue.com. Additional casts includes Leah Aldridge (PhD, Film), Rachel Appelbaum (actress); Aaron Fink (producer); Salim Lemelle (screenwriter); Liz Manashil (director); Sean Wright (director); Brenna Smith (actress); and Kevin Taft (screenwriter and film critic from Edge Media Network).
Just Seen It is a young, modern, multi-cultural entertainment show and has created over 800 distinctive reviews since its inception in 2011. It airs weekly on 246 PBS stations nationwide, check local listings for showtimes, and online at Hulu.com.
Just Seen It is on in 108 markets and 40 states with 60% of US coverage.
CONTACT:
AMY PRENNER
Email Contact


Copyright @ Marketwire
Page: 1
Related Keywords:
Camera/Film, Marketwire, Film, Television, Entertainment,
---