intensiKey LLC Releases IK 1.1 3d Virtual Set Chroma Key Software.
(February 25, 2012)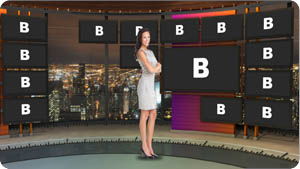 Las Vegas (PRWEB) February 25, 2012
intensiKey 1.1 adds new features in the form of preconfigured camera movements and studio configurations. These virtual sets now come with .set files detailing camera movement and positioning over time as well as allowing the user to change some set elements like removing a desk or a screen to replace with a real version. The sets have also been updated to improve their look and feel.
The new version of intensiKey also features expanded support for video file formats allowing more content to be used with the software. As well, additional help files covering usage have been created to walk users through basic tasks like creating a camera motion in a virtual set with intensiKey and rudimentary green screen chroma keying tips. A lot of a focus has also gone in to making the software work better on a broader range of hardware with more support for Windows XP and Vista.
intensiKey 1.1 also features a new trimming system giving the user more control over the duration of the clips in the scene and a render range function essentially turning intensiKey into a miniature editing program.
intensiKey solves the problems that have plagued even savvy post production professionals; how to do a true 3D virtual set in post production without significant time, expense, and technical overhead. intensiKey is quick to set up and render a shot, usually taking only minutes to do both. Compared to ordinary chroma key software intensiKey comes preloaded with content that lets the user choose how to frame the shot giving control of talent and positioning back to the user.
intensiKey is designed to be easy to use, load green screen footage, add a B source, add a camera move, select an output format, and render. intensiKey chroma keys the talent into the virtual set and creates a beautiful true 3D camera move. The footage is ready to go straight to the internet, into any editing program, or anywhere else common video file formats go.
Watch a demo of intensikey in action:
http://www.intensikey.com/Demovideo.htm
Or download the intensiKey chroma key software to try it out:
http://www.intensiKey.com/Demo.htm
About intensiKey LLC
Created with the sole passion of delivering cost effective 3D virtual set products to the Broadcast, Corporate, PEG, and enthusiast market, intensiKey focuses on developing software and content to complement each other.
intensiKey is privately owned and based in Las Vegas, Nevada. Please visit: http://www.intensikey.com
###
Read the full story at http://www.prweb.com/releases/2012/2/prweb9222665.htm.
Page: 1
Related Keywords:
computer crime, software, internet, consumer goods, consumer issue, consumer confidence, consumer issue, design and engineering, fishing industry, cinema industry, radio industry, television industry, music industry, process industry, mass media, news media, media, social security, social sciences, social issue, social issues (general), social conditions, social problems, social services, social conflict, economy, business and finance, financial and business service, business enterprises,
---